We know that images speak louder than words, and also that a photograph is worth a thousand words, but the following 10 photos will leave you gasping for air. Today, we give to you 10 of the most beautiful 75 photographs "of the day". We hope you enjoy them as much as we did.
THE PERSEIDS METEOR SHOWER
This photograph was taken on 11th of August, 2012 by professional photographer David Kingham, and it shows as a breathtaking perspective on the Perseid meteor shower, from Wyoming. This one photo is actually made up of 23 composite images, 22 of the sky, stars and meteors, and one taken at sunrise.
Image Source : David Kingham on Flickr
A SEAHORSE INSPECTS A DIVER'S WATCH
This amazing capture of a tiny seahorse checking out his own reflection in the glass of the watch is amazing. From the reflection on the glass we can see that the photo was taken close to the surface, which is normal because seahorses usually live in shallow tropical and temperate waters.
LIVING ON THE EDGE
The photo was taken was taken in Yosemite National Park, 1.444 meters above the valley floor. As crazy as it may seem to climb such outstanding heights, for Alex Honnold, the world's number one free soloist, it is a way of life. If you don't know what a soloist is, then let us explain. A soloist is capable of climbing mountains without any help from ropes or equipment.
Image Source : Tim Kemple
MOUNT FUJI FROM ABOVE
You are probably already acquainted with the spectacular Mount Fuji, but I'm sure you haven't seen it from above yet. This aerial capture of Fuji, situated on Honshu Island, is extremely beautiful. The mountain is a symbol of Japan, it is a popular photography and art subject, and the Japanese call it one of the "Three Holy Mountains".
Image Source : news.mydrivers.com
DEATH BEGETS LIFE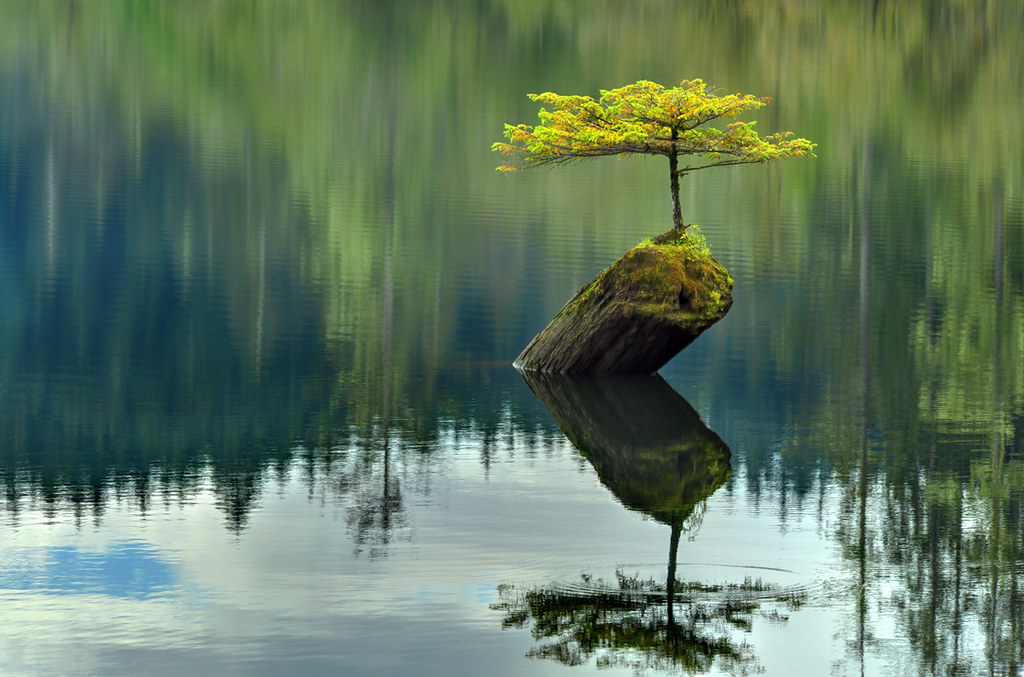 There is something mesmerizing about this photograph. It is not only the beautiful lake and its reflection, or the soft colors of the little tree, there is also a deeper meaning to this picture. This tiny fir tree has managed to grow on a dead log in the waters of Fairy Lake. This just goes to show you at how incredible nature is.
Image Source: Ireena Worthy on Flickr
LIONESSES AT THE WATERING HOLE
This is something you will not get the chance to see again in your life: an albino lioness quenching her first alongside another lioness. They almost look like twins. The photo was taken at the Motswari Private Game Reserve in South Africa. The white lioness is part of the rare Xakubasa pride.
Image Source: Ranger Chad Cocking
THE SIZE OF A WHALE IN PERSPECTIVE
In this breath-taking photo we can see a magnificent blue whale, swimming close to a kite surfer who is probably unaware of the mammals presence. We already know that whales are the largest animals to have ever lived, but this photo helps us understand exactly how big they are.
Image Source : Michael Swaine @ AbovePhotograph.com.au
GALACTIC MONSOON
This amazing photo of the sky was feature as the Earth Science Picture of the Day, and it captures the fascinating Milky Way on the desert sky, and a thunderstorm on the horizon. The capture was taken in Point State Park, Utah on August 27, 2011.
Image Source : Bret Webster
PIXEL PEOPLE PERFECTION
Everybody loves Audrey Hepburn, she is and was the ultimate example of beauty and elegance. Craig Alan has made a tribute for this iconic actress. As a homage to her, even the infamous red lips have red shadows.
Image Source: Craig Alan, on Flickr
STUNNING GREEN VINE SNAKE
This snake kind of looks like he is laughing. Anyway, this creature is amazing. It can be found in the tropical forests of India, Sri Lanka, Burma, Thailand and Cambodia or Vietnam. This reptile has the ability to expand its body, and it gives birth to young that grow within its body. The author of the photograph said that the Green Vine Snake is one of the most beautiful snakes he has ever captured because of its bright colors and incredible posture.
Image Source: Suhaas Premkumar, National Geographic